Complete Floor Sanding Wollongong caters to the needs of the homeowners located in Wollongong and its surrounds, including Stanwell Park, Cordeaux Heights, Shell Cove, Calderwood, Mount Pleasant, Figtree, Port Kembla, Woonona, Warilla and others.
Timber decks are a great outdoor area for homes where families can enjoy an outdoor lifestyle and the Australian weather. Having a deck can add value to your home, but the harsh weather of Wollongong can deteriorate it quickly. A worn-down and ragged deck can cause your deck to lose its appeal. Many people feel like the only solution to get rid of the old deck is to replace the entire deck or throw a decorative rug over it. A more affordable and less time-consuming method to improve the look of your deck is deck sanding. The process of deck sanding can help keep your deck looking great all year round and ready for any party that you wish to host for your friends and family.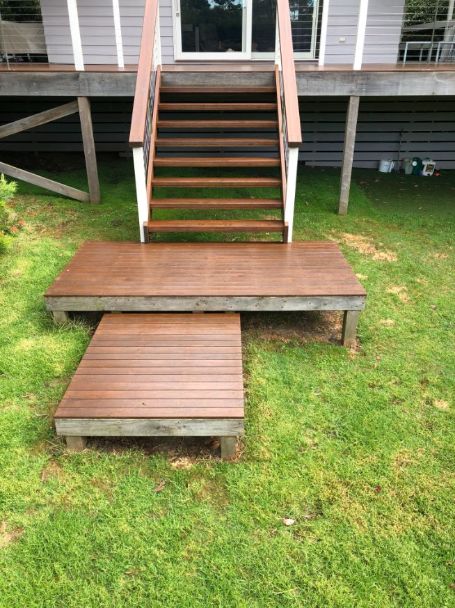 How Do You Benefit from Our Deck Sanding Services?
Investing in professional floor sanding services means adding value to your home and also investing in your future. Every deck flooring is different, and we cater to different demands. With years of experience, we understand what it takes to restore your timber deck to perfect condition. With quality workmanship, high safety standard, and a little extra care, we provide the following benefits to our clients – 
If your deck is not a feature of your house or a place for entertainment, it might be time to give it some attention. Our deck sanding Wollongong experts will help revive the structure and ensure that it lasts a long time. Depending on the condition of your deck, our professional deck sanding Wollongong services may include –
Scraping

– Firstly, we will prepare your surface by removing gravel, dirt, and even chipped paint from your deck. 

Power Wash

– To make sure that the deck surface is ready for staining or painting, we will power wash it.  

Sanding

– We will sand all the areas that are raised or even loose to create a smooth surface. 

Cleaning

– Once the deck is sanded, it has to be cleaned again to ensure the wood is dry before staining it.

Stain or Paint

– Finally, if you want, we will apply stain or paint on the surface of the deck. 
We use only premium equipment and products that are not hard on your deck. Our deck sanding services are tailored to the climate of Wollongong and its suburbs, such as Mount Pleasant, Figtree, and Port Kembla.  
Hiring Professionals to Sand Your Deck
You can save yourself all the hassles and your time by hiring professionals to sand your deck.  We have deck sanding Wollongong specialists and the best equipment to ensure smooth finishes without any lumpy. Give us a call to discuss your sanding needs and get a free, no-obligation quote.